Safety should be at least equally as important as style, power and performance when searching for a new car. In this way, the International Institute of Highway Safety (IIHS) ratings can be an incredibly useful tool by allowing you to compare various new vehicles in order to see which one is safest. For those in the market for a smaller, hybrid wagon, you'll be happy to know that the 2018 Kia NIRO was recently was recently awarded the IIHS' best rating and named a Top Safety Pick Plus. With this in mind, here are some of the things drivers need to know about this outstanding new Kia vehicle and what makes it so safe.
The 2018 Kia NIRO: Safety and Style in One
Whereas other popular hybrids like the Toyota Prius and Hyundai Ioniq only managed to receive the normal IIHS Top Safety Pick rating, the 2018 Kia NIRO bested every vehicle in its category to earn the prestigious Top Safety Pick Plus. In fact, the NIRO was only the car in its class to earn the IIHS' top rating of Good in every single category.
Part of the reason for this Kia's superior safety rating is its wide range of advanced and intuitive safety features, such optional high-intensity discharge (HID) headlights. Drivers can also take advantage of the NIRO's optional forward collision prevention system, which proved capable of successfully avoiding crashes at speeds up to 25 miles an hour. At higher speeds, the system can also take over and make minor corrections that should at least help to minimize the damage even if you can't avoid crashing.
As well, the NIRO comes standard with a forward collision warning system that fully meets all relevant criteria set out by the National Highway Traffic Safety Administration. This system provides an alert whenever it detects any objects in front of the vehicle to ensure you remain fully aware and also to hopefully ensure you can avoid getting into an accident.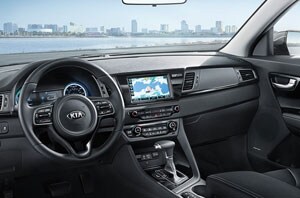 In order to determine its overall safety ratings, the IIHS judges each car on a range of important tests and criteria. These crash tests are where the 2018 Kia NIRO really stood out. In fact, it was the only vehicle of its kind to successfully pass all of the tests with the highest possible rating. This includes the IIHS' new driver-side small overlap front test, which proved exceptionally difficult for most other vehicles to pass.
Of course, style and performance are also important criteria when choosing a new car. Still, the good news is that the NIRO also excels in all of these important categories especially when equipped with one of the higher trim packages like the EX or Touring. These higher trim packages also happen to be equipped with better headlights and more advanced safety features, which helps to explain why they are proving so popular with drivers.
Still, you are bound to have a blast driving the 2018 NIRO no matter whether you choose the base FE model or upgrade to one of the higher-level trim packages. This is precisely why we want to invite you to stop by our dealership to check out all of the various 2018 NIROs we have on offer. At Camelback Kia, we pride ourselves on offering quality customer service and support, and our friendly sales staff is standing by to help you arrange a test drive or answer any questions you may have. There is nothing like driving with the confidence of knowing that you and your family will be safe and secure in the event of an accident, and for this reason, you owe it to yourself to give the outstanding Kia NIRO a firsthand look.