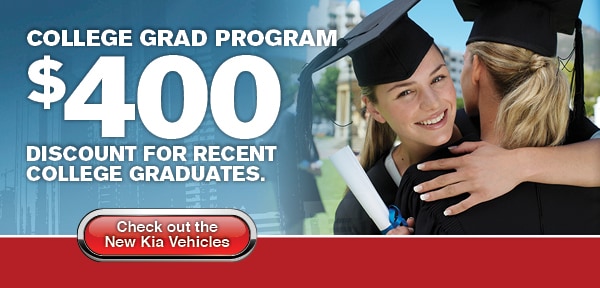 After years of hitting the books  to earn that college degree, you've earned our highest praise! That's why at  Camelback Kia in Phoenix we want to award you for all your hard work. How? By  getting you behind the wheel of a new Kia through impressive new car incentives  that you deserve.
Modern, dependable and  comfortable, your new Kia sedan, van or SUV will have you driving in style!  Camelback Kia not only offers vehicles with dynamic designs, we also stand by  our customers every mile down the road. With our dedicated team of sales and  service professionals, you can drive off our lot in your new car with  confidence knowing that we got you covered. So don't wait, tackle your next  endeavor with ease in one of our fantastic Kia models today!
Driving off in your new Kia with  these benefits is easy. Just visit our Kia dealership in Phoenix today with  these items in hand:
 
A copy of your diploma or a  letter from your college or university's registrar's office stating that you  graduated within the past 12 months.
 
Proof of employment such as a  pay stub.
That's it! So don't put your  dreams on hold any longer, come down to our dealership today and get the keys  to a new Kia that you're sure to love! It's your time to shine and this is the  perfect opportunity for you to do it.
  * This Kia College Grad Program  Offer (the "Offer") is limited to well-qualified customers who meet all the  following Offer criteria, and who finance the purchase or lease of their new  Kia, subject to credit approval, through Kia Motors Finance (KMF) from Jan. 5,  2016 - Feb. 29, 2016. Offer applies to any in-stock new 2015 and 2016 model  year Kia vehicles. Only available at participating Kia dealerships. Must have a  diploma from an accredited 2 or 4 year college or university, nursing school,  or master's or doctorate program and have graduated within the past 12 months.  No adverse credit history. Offer subject to availability. This benefit may  change or end in the future at the sole discretion of KMF.
LEASE: $400 Bonus must be  applied towards the amount due at lease signing and may affect the final  negotiated price.
PURCHASE: $400 Bonus must be applied to reduce the down payment  and may affect the final negotiated price.