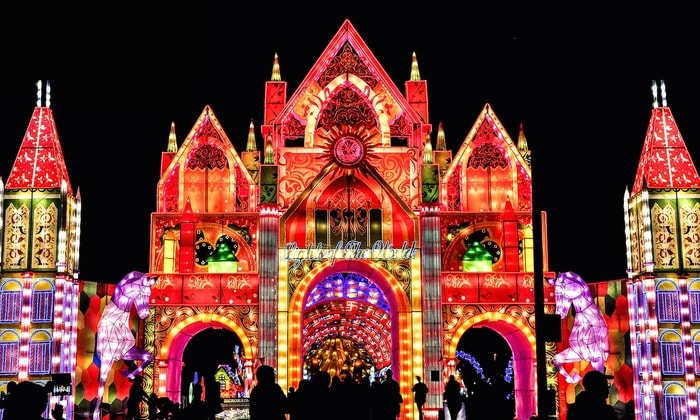 Arizona State Fairgrounds
1826 W. McDowell Rd.
Phoenix, AZ 85007
Open daily through Jan. 2, 2018
5-10 p.m.
We may not have many white Christmases here in the desert, but we sure do have merry and bright ones! In fact, we play host to the country's largest lantern and light festival, Lights of the World: A Holiday Wonderland Experience. With over 10 million lights and 75 displays to behold, this unique event makes downtown Phoenix glisten and glow without the need for snow.
Lights of the World is more than just a light show—it's a fully immersive cultural experience that takes guests through various parts of the world. The festival is separated into 11 exhibits, which include "African Kingdom," "Isles of Oceania," "Oriental Mysteries," "Trek Across Europe" and "America, America!" Each exhibit contains dazzling displays, which bring to life the cultures and holiday traditions of the region. Popular displays include the Eiffel Tower, London Bridge, Deep Ocean Wonders, Temple of Heaven and Saint Basil's Cathedral.
In between exhibits, be sure to take a break and enjoy some authentic cuisine from one of the nineteen food trucks on site. While you're snacking, you can also catch a live music or dance performance, or stop by the Chinese acrobats exhibit for an extra fee.
General admission to Lights of the World is $18 for adults and $15 for children (3-13). Discounted tickets can be purchased in advance from any Phoenix-area Walgreens pharmacy. For more information, visit the event's website.
Happy holidays from all of us here at Camelback Kia!