New 2015 Kia Sorento Review | Sorento Comparison For Phoenix, AZ

Phoenix Kia Dealership Reviews the New Sorento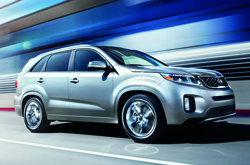 Kia's handsome crossover is back, and after last year's redesign, the 2015 Kia Sorento is poised to become a major standout in this popular segment.
On the larger end of the compact crossover market, the Sorento received a few minor updates this year, and our 2015 Kia Sorento review was pleased to see the new V6 engine and third row options that make this crossover really stand out amongst its wide variety of competitors.
These new features make the Sorento much more of a standard "family" vehicle than many of its class, while still keeping it sporty edge.
Families looking for a 2015 Kia Sorento in Phoenix will find that it comes in four trim levels: the LX, EX, SX and SXL. Our  Kia Sorento review recommends going with either the SX or SXL as they offer the most tech and safety features that are essential for a family vehicle. These features include a navigation system, eight-inch touchscreen, Bluetooth connectivity, rear parking sensors and blind-spot monitoring. Other features on the SX and SXL editions are 19-inch chrome wheels, upgrade leather upholstery, xenon headlights, foglights, rear air-conditioning, heated front seats and a panoramic sunroof.
The higher trims also offer the most power with the all-new 3.3-liter V6 engine that rates at 290 horsepower and 252 lb.-ft. of torque. All that power is funneled through a six-speed automatic transmission with all-wheel drive an available option.
The Sorento's cabin is one of the most driver-friendly choices on the market with a fantastic touchscreen interface as well as a large LCD gauge cluster option that digitally replicates an analog speedometer.
The cabin also sports a great deal of passenger space with the first two rows offering plenty of adult-sized room as well as nearly 40 cubic feet cargo space with all three rows intact and a whopping 72.5 cubic feet when you fold the third row back.
So come by our dealership today and see exactly what makes the 2015 Kia Sorento in Phoenix one of the best crossovers on the market.
Search Phoenix Sorento inventory
Specs & Features Bullet List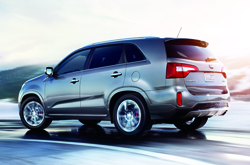 In many areas, the 2015 Honda Pilot, Toyota RAV4 and the Chevrolet Equinox are exceeded by the 2015 Kia Sorento. AZ shoppers will enjoy the Sorento's advanced features and inexpensive pricing. You'll easily see that when compared to the vehicle options listed above it's a truly outstanding value in regard to price, which is why many Phoenix Kia customers choose it. Find even more info; see our quick-facts list for the Sorento - bullets below this paragraph.
2015 Kia Sorento MSRP: $24,300
2015 Kia Sorento Seats: 7 passengers
2015 Kia Sorento MPG: 19 city / 27 highway
2015 Kia Sorento 0-60 MPH in 7.5 seconds
2015 Kia Sorento Body Style(s): SUV
2015 Kia Sorento Doors: 4-door
2015 Kia Sorento Colors: Wave Blue, Bright Silver, Dark Cherry, etc...
2015 Kia Sorento Cargo Space: 9.1 cubic feet
Find out more about the 2015 Kia Sorento at Camelback Kia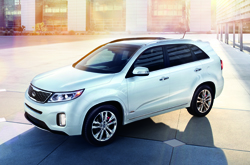 Camelback Kia is your source for 2015 Sorento reviews and car comparisons. We take our duty to provide the best reviews recorded by automotive experts - it's just one more thing that makes us a reputable Kia retailer in Phoenix. To make informed decisions when it comes to your next Kia purchase, don't guess! Each article is loaded with data, including info about vehicle features, in an easy-to-understand clear layout. Find out more about Camelback Kia's award-winning lineup! Review and compare Kias other vehicles in our digital research library now!
Have Any Questions?
Directions
Get Directions