New 2015 Kia Soul Facts | Soul Research

Check Out the New 2015 Soul From Camelback Kia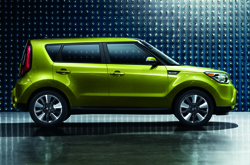 The new 2015 Kia Soul gets an all-new steel body frame and upgraded suspension for its 2015 model year, and with its more extensive redesign last year, the Kia Soul is looking to become one of the most popular hatchbacks on the market.
Our 2015 Kia Soul review loves this little car and not just for its powerful giddy-up and ample passenger and cargo space, but also for its original design that offers a very unique offering in a genre that can begin to seem redundant.
A major update to the Soul this year is its new high-strength steel body frame that gives the hatchback a much more comfortable and stable driving experience. And with the new upgraded suspension, those looking for a 2015 Kia Soul in Phoenix may just have found the hatchback of their dreams.
The 2015 Soul has two engine options: the base 1.6-liter four cylinder and the 2.0-liter, direct-injection four. Our 2015 Kia Soul review recommends going with the 2.0-liter engine, as it offers the right amount of power that gives the Soul a very fun and sporty feel.
The interior of the Soul offers a very comfortable ride with its dual-density foam and extended seat cushions, and with its ample leg and headroom, the 2015 Soul will be favorite amongst taller drivers or families with growing teenagers.
Safety features are also extensive on the Soul as many drivers will consider this an adequate family car. Features include dual front airbags, seat-mounted side bags, full-length side curtain bags and fantastic four-wheel disc brakes, all features that have contributed to the Soul's overall five star rating from the NHTSA.
So come by our showroom and test drive the new 2015 Kia Soul in Phoenix and see why this unique hatchback is the perfect car for you and your family.
Kia Soul vehicles for sale
Bullet List of Soul Specs & Features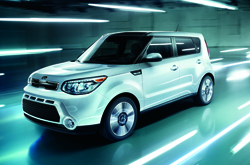 If you've ever thought about purchasing vehicles like the 2015 Nissan Cube, Mini Cooper Clubman and the Scion xB in Phoenix, compare Kia's new 2015 Soul first; we're sure that it's the best match for you. The Soul's attractive looks, handy cabin features and affordable sticker price are sure to win over AZ shoppers. When comparing its price to the competition you will surely see that Phoenix Kia customers select it because it's a truly outstanding value. Glance over the Soul bullet list below this paragraph for more quick facts.
2015 Kia Soul 0-60 MPH in 9.1 seconds
2015 Kia Soul MSRP: $15,100
2015 Kia Soul Body Style(s): Hatchback
2015 Kia Soul Seats: 5 passengers
2015 Kia Soul Colors: Alien II, Fathom Blue, Inferno Red, Shadow Black, etc...
2015 Kia Soul Doors: 4-door
2015 Kia Soul MPG: 24 city / 30 highway
2015 Kia Soul Cargo Space: 18.8 cubic feet
For more information on the 2015 Kia Soul, contact Camelback Kia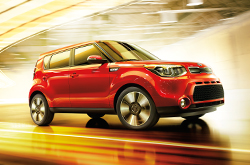 To make your car search less time consuming, Camelback Kia is happy to offer research tools like the 2015 Soul review above, as well as reviews of past models. Our reviews are composed by well-informed automotive critics. It is a resource we like to provide as one of Phoenix's prominent Kia franchises. The above article is packed with beneficial facts - it contains info about cabin features and other specs so that you can make intelligent decisions about the Kia you want to buy. Is the Soul not the right pick for you? Discover more about other vehicles on sale at Camelback Kia using our reviews library. With it you can review and compare Kia's entire portfolio of vehicles.
Take a Look inside the Kia Soul
Have Any Questions?
Directions
Get Directions