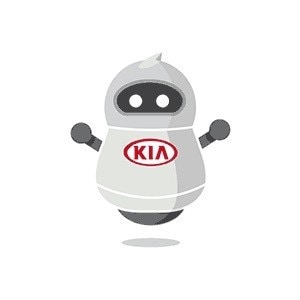 Got a question about a new Kia model? Kian has an answer!
Meet Kian, Kia's new artificial intelligence-powered chatbot. Programmed to answer a variety of questions about Kia features, specs, nearby inventory and pricing, Kian is about to take your car shopping experience to the next level.
"In our ever-changing digital world, Kian is programmed to understand individual customer needs and then provide shopping decision support instantly and intuitively," said Saad Chehab, vice president, marketing communications, Kia Motors America. "Shoppers and Kia owners can chat with Kian on their own time, with no pressure and on the mobile messaging platform they use the most."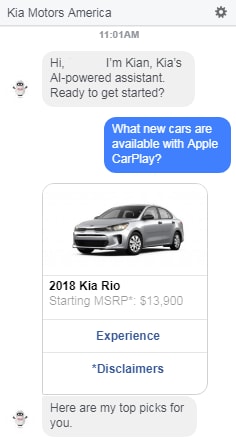 Kian is a valuable tool for consumers, making the research and buying processes faster and easier than ever before. According to Kia, Kian is connected to the automotive industry's most comprehensive database, meaning it has access to millions of data points. These data points include photos, videos, vehicle comparisons, dealership locations and special pricing offers, to name just a few.
Kian also boasts sophisticated natural language processing and a built-in analytics system, which enable it to understand specific, contextual questions and anticipate consumer needs. Additionally, it's designed to learn and grow from its experiences, so while the chatbot may ask you to rephrase a question or two now, its comprehension will only continue to expand over time.
"As more shoppers use the system, it learns to anticipate questions, provides more specific answers and gets smarter over time," said Martin Schmitt, CEO and Co-Founder of CarLabs, Inc. "Having access to that level of shopper data is a powerful tool for understanding and serving customers better than previously possible."
Ready to try out Kian for yourself? The chatbot is ready to help you now via Facebook Messenger!