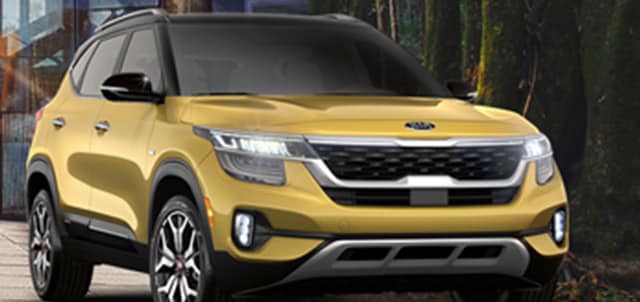 Scheduled for release in 2021, the Kia Seltos will have lots of all-new features. This compact SUV will also be available in hot exterior colors, such as Neptune Blue and Mars Orange.
The Kia Seltos Sets a New Tone For the Future
Kia plans to offer two efficient powertrain options for the Seltos model. A 2.0 L engine block provides optimum efficiency, and a 1.6 L turbocharged engine delivers maximum power and torque. Both propulsion systems are flexible enough to send output to an all-wheel-drive (AWD) system with the Lock Mode and Torque Vectoring. Clearing the ground by more than 7.2 inches, this all-new Kia SUV has good off-road capabilities. Adventurous drivers will love the Intelligent Variable Transmission (IVT) system that creates smooth changes in gears on various terrains. This versatile gearbox is paired with the 2.0 L engine block. A dual-clutch transmission (DCT) system is mated to the turbo powertrain. A rear suspension system with a coupled torsion beam axle balances the chassis on uneven terrains. Approximately 61 percent of the car's body will be made of high-strength steel for optimum durability and efficiency. More than 370 adhesive joints hold the frame together.
The Seltos is also expected to have some of Kia's most innovative digital technologies, like a 10.25-inch touch screen with the UVO Telematics and other UVO services. A split-screen option allows you to look at maps and other apps at the same. The Engine Idle Notification will appear on your mobile device when you download the appropriate app. You'll also get messages about the Engine Automatic Shutoff function. An eight-speaker audio system from Bose is synced with the multimedia system in this Kia car. You can use Android Auto to stream Spotify, Pandora, and other popular online music channels. Apple CarPlay also gives you lots of entertainment options in the cabin.
This all-new Kia SUV also has the Drive Wise safety package. With some cues from the Safe Exit Assist, the rear passengers will safely get out of this vehicle on a busy urban street. The signature safety suite also includes the Forward Collision-Avoidance Assist, which is ready to hit the brakes in an instant. With additional feedback and leverage from the Highway Driving Assist, you'll maintain a safe distance to other cars that are ahead of you. Additionally, the Driver Attention Warning will ensure that you pay attention to the steering wheel.
Contact our Kia dealership for updates on the all-new Kia Seltos, which will be available in five trims.